LOGO Helicopters ... GLOGO 690 SX
GLOGO 690
Designed and tested by World Champion R/C Helicopter Pilot and long time Team Mikado Member, Kyle Dahl. 
Systematically designed and put through rigorous amounts of testing, this is the ideal 690 size Nitro machine, for every pilot, for every style of flying.
Mikado hasn't had a model for the nitro market in 26 years, but the ultra light GLOGO 690 is the model worthy to bring NITRO back to MIKADO!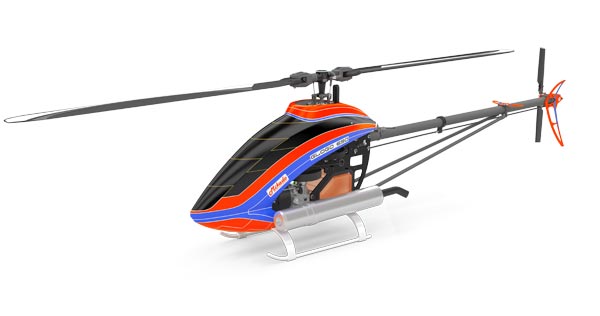 It utilizes tried and tested components from the existing LOGO 690 such as
106 T Herring bone gear which is quiet, strong, and efficient
aluminum swashplate with new geometry for quicker cyclic response
robust tail drive via HTD-belt, with aluminum drive pulleys
stronger blade grips with Ų 5 mm blade grip bolt
stronger free wheel for higher torque
reinforced clamp ring for main rotor shaft
The carbon-aluminum chassis was built from the ground up specific for nitro application. It was designed to be lightweight, sturdy, and simple. Due to the vibration, and extreme heat caused by nitro engines, we felt that molded frames would not be a viable option.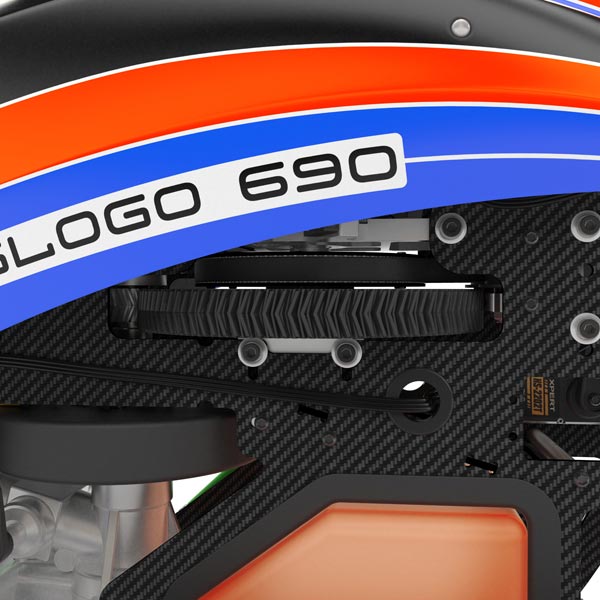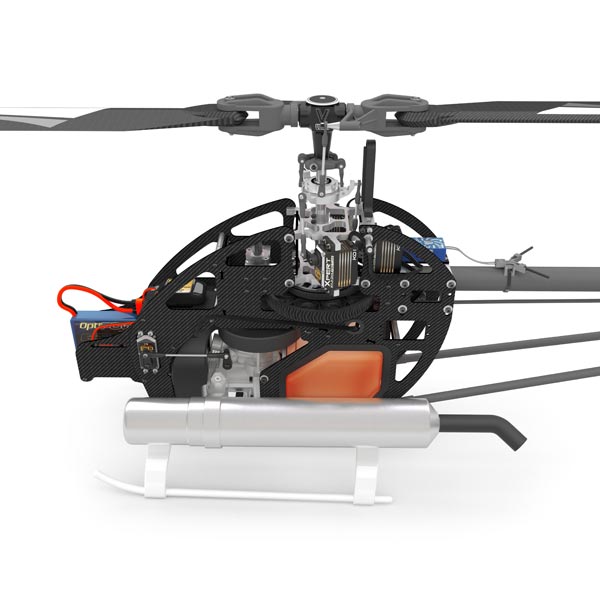 The benefits at a glance:
Due to the plastic rotor blade grips, belt drive, and super light tail box, it makes the GLOGO 690 one of the (if not the actual) lightest Nitro model on the market.
Because of the light belt drive and ultra light tail box, we did not have to use a larger main gear, or front mounted servos with bell cranks in order to attain proper CG.
As a result of the small main gear, and direct control servos, we were able to make a very small and aerodynamic canopy which provides ultimate performance and looks for the model. 
Utilizes the Synergy XL Spec Clutch which provides no slip engagement even at very low main rotor RPM.
One piece carbon side plates provide a stronger frame around the clutch stack area.
Clutch stack is mounted using 8 x M3 bolts, providing very strong and perfect alignment.
Designated wiring routes with frame grommets and zip tie slots, to take wires from the front of the model towards the rear.
Large front battery tray allows space for the use of large RX batteries so you can fly all day without charging! 
Boom supports mounted with threaded rod and nuts, which allows you to service them without dismounting the muffler. 
Plenty of mounting places for auxiliary equipment such as remote glow drivers, back up guards, etc.
The proven rotor head design has been in use on the LOGO 690 for nearly four years now. It is lightweight, and perfectly functional for this nitro model application.
Recommended main rotor blade sizes are 650-700 mm, depending on your personal taste and style of flying.
To power the GLOGO, you can use any nitro engine between the size of 91-120. In our testing we used OS91, YS96, and OS105 engines. 
In the beginning, there will be one gear ratio available: 8.15 with a 13 tooth pinion. In the future we may offer a 14 tooth pinion which will give a gear ratio of 7.57 for use with smaller 650 blades and higher RPM.
The newly designed canopy of the GLOGO 690 combines the known and appealing design and visibility with fantastic aerodynamics: this helps especially with swift transitions within or between 3D maneuvers and big air aerobatics.
Colored tail fins also help with visibility.
Proudly partnered with Synergy Model Helicopters, to utilize their proven Fuel Tank, Fan, and Fan shroud, along with the Synergy XL Spec Clutch. 
With off-the-shelf components, an all up weight of 4.1-4.35 kg (no fuel) is possible, depending on your component choices.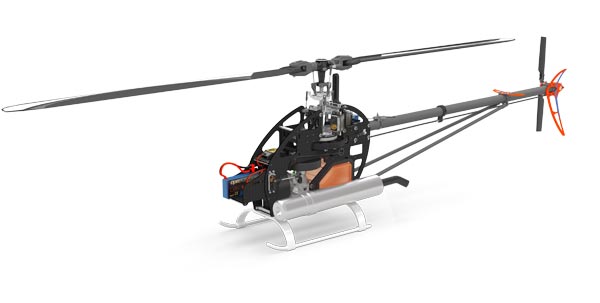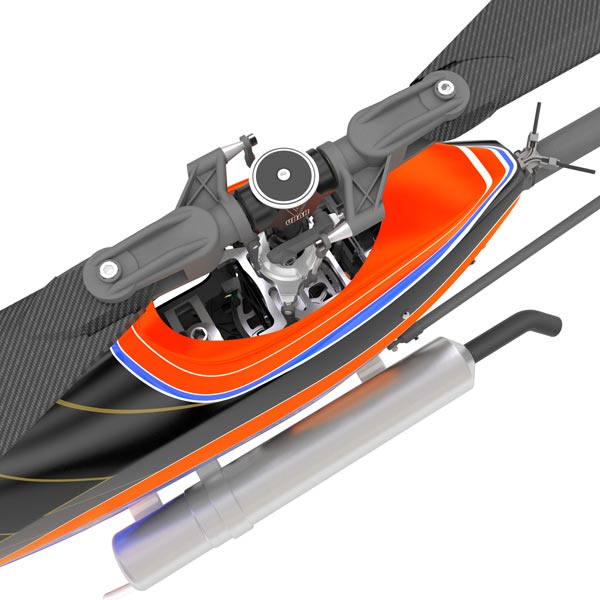 Size Specifications
Overall Length from back of tail box to the front of the canopy = 1,300 mm
Height from ground to top of head button = 425 mm
Model Specifications
Main rotor diameter: 1,560 mm w/697 mm blades
Main blade length: 697 mm  

Main shaft diameter: 10 mm  

Tail shaft diameter: 5 mm  

Spindle diameter: 8 mm 

Estimated weight: 4,100-4,350 grams (dry)
Needed To Complete:
2.4 GHz Transmitter & Receiver (7-channel or more, helicopter system)
Nitro Engine, Size 90-120
Compatible muffler
(3) Cyclic Servos (Standard Size, 40 mm; High Torque recommended)   
(1) Tail Rotor Servo (Standard Size, 40 mm)  
2s 5,000 mAh RX pack recommended
3-Axis Flybarless System
Compatible Battery Charger 
Pitch Gauge  
Various tools, lubes & greases for setup and assembly